DESCRIPTION
Pro Team Artist, Greg "Craola" Simkins and Trekell have teamed up to design his new brush set! This set features 7 brushes on walnut stained handles with matte black tips and a sticker designed by the artist.
Brushes:
#10 Bright - Spectrum - 10" Handle
#12 Round - Spectrum - 10" Handle
#8 Filbert - Spectrum - 10" Handle
#2 Liner - Golden Taklon - 6" Handle
#8 Cat's Tongue - Golden Taklon - 6" Handle
1/2" Grainer - Golden Taklon - 6" Handle
1/4" Dagger - Golden Taklon - 6" Handle
All brushes in this set are made from a synthetic filament and can be used with all mediums.
https://gregsimkinsart.com/
READ MORE
Customer Reviews
10/17/2019
Joseph C.
Switzerland
Promises Kept
I have been using the Greg Craola Simkins Signature Brush Set for a couple of weeks and am completely satisfied with them. Trekell's promises concerning the highest quality of their brushes are true. Delivery to Europe has been quick too. They arrived well packed and in perfect condition. I will continue buying Trekell brushes in the future. Make mine Trekell!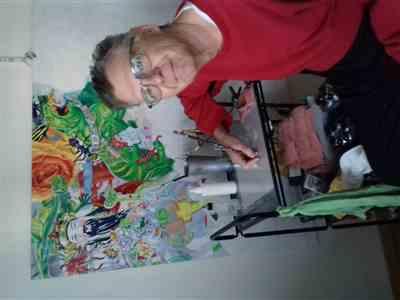 09/19/2019
Sandra S.
United States
The Most Bestest Brushes
These brushes are amazing! They hold their shape and they hold on to the paint really well. Shipping was super fast!
09/13/2019
Jose M.
United States
exact day shipping
Great.Super easy
08/31/2019
raymond a.
United States
Craola brushes
I love them all but the 1/2 brush isn't so great. When I load it with paint, it has a rugged end. Like split ends.it isn't flush straight. So when I try to create a brush stroke I have to make like 3 strokes to paint over the streaks.not sure if that's how its suppose to be? But Other than that I love them. Thank you
08/31/2019
Trekell Art Supplies
Hi Raymond, thanks for the review! Yes, the 1/2" is a grainer brush. They aren't straight at the top and they are used to created grass, fur and hair textures. Hope this helps!