DESCRIPTION
The first brush set from Trekell Pro Team Artist, Tony Curanaj.  This collection includes 10 synthetic brushes, on short and long maroon handles with a red tip.  Only available in Tony's set, our new Crimson Taklon brushes.  Crimson Taklon is just as smooth as Golden Taklon, but more stiff.  This series includes:
#10/0, #1, #4 Golden Taklon Rounds - 6" Handle
#2 Protege Round - 6" Handle

1/4" Mop - 6" Handle
#4, #6, #8 Crimson Taklon Rounds - 10" Handle
#4, #10 Crimson Taklon Filberts - 6" Handle
1 Sticker Featuring Tony's Artwork
There are a limited amount of these, so make sure you gets yours today!
READ MORE
Customer Reviews
Write a Review
Ask a Question
02/15/2020
Ron C.
United States
Wonderful product
These are the most amazing taklon brushes I've used. Firmer and more durable than golden, they have retained their shape very well so far, which is impressive since I'm pretty hard on my brushes. Will definitely order again.
02/02/2020
Thomas S.
United States
A diverse brush selection designed for precision
This brush set provides excellent quality and diverse options for fine handling work such as realistic still life and portrait subjects.
12/27/2019
Lucy K.
United States
If I only had one brush
I honestly bought the Tony Curanaj Limited Edition Brush set because Tony, a highly accomplished painter and gifted teacher, uses and recommends Trekell brushes. The Trekell golden taklon round # 10/0 - 2 are regular brushes in my quiver. After using the Crimson Taklon # 4 filbert, I will always have at least one within reach. This is a versatile brush. It keeps an edge at the tip that is suitable for drawing very fine lines; the length of the brush hairs are long and full to hold the proper amount of paint and springy enough to keep things neat and tidy. I've used it on the flat, on the length, on the tip, and the brush is responsive in all directions. The 10" handle on the crimson taklons provides balance at arm's length and the ferrules are tight. No regrets. This is a well considered assortment.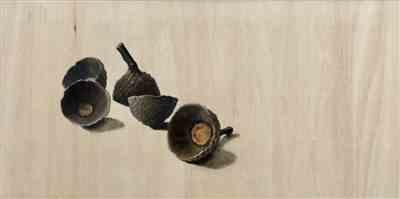 12/22/2019
Rhonda W.
United States
Tony Curanaj Limited Edition Brush Set
I paint mostly realistic, very detailed oil paintings. I ordered the Tony Curanaj Limited Edition Brush Set expecting them to be just okay. I love them. So far they have kept their shape and allow me to develop the detail I want. I have already suggested them to my students.