Trekell Protégé Plus Synthetic Kolinsky Artist Brushes - Short Handle for Watercolor, Oil, Acrylic Painting
Introducing the Protégé Plus synthetic kolinsky brushes, designed to mimic the positive qualities of natural kolinsky sable-hair without shedding. These sustainable brushes offer demanding artists a highly realistic synthetic filament that outperforms the competition. Enjoy the same shape as our Protégé brushes, but with an even more accurate performance that mimics natural hair kolinsky-sable brushes.
Perfect for watercolor and versatile enough for all media, including acrylic, oil, enamel, ink, and gouache paint
Synthetic and vegan-friendly, closely mimics the performance of natural-hair Kolinsky-Sable brushes
Features medium firmness and smooth bristles, great for precise application and filling in details
Has a needle-point tip and full belly for fluid retention, making it ideal for line work and achieving fine details
Comes in a 6" short handle, suitable for artists who prefer a closer grip
Upgrade your brush collection with the Protégé Plus line today!
View full details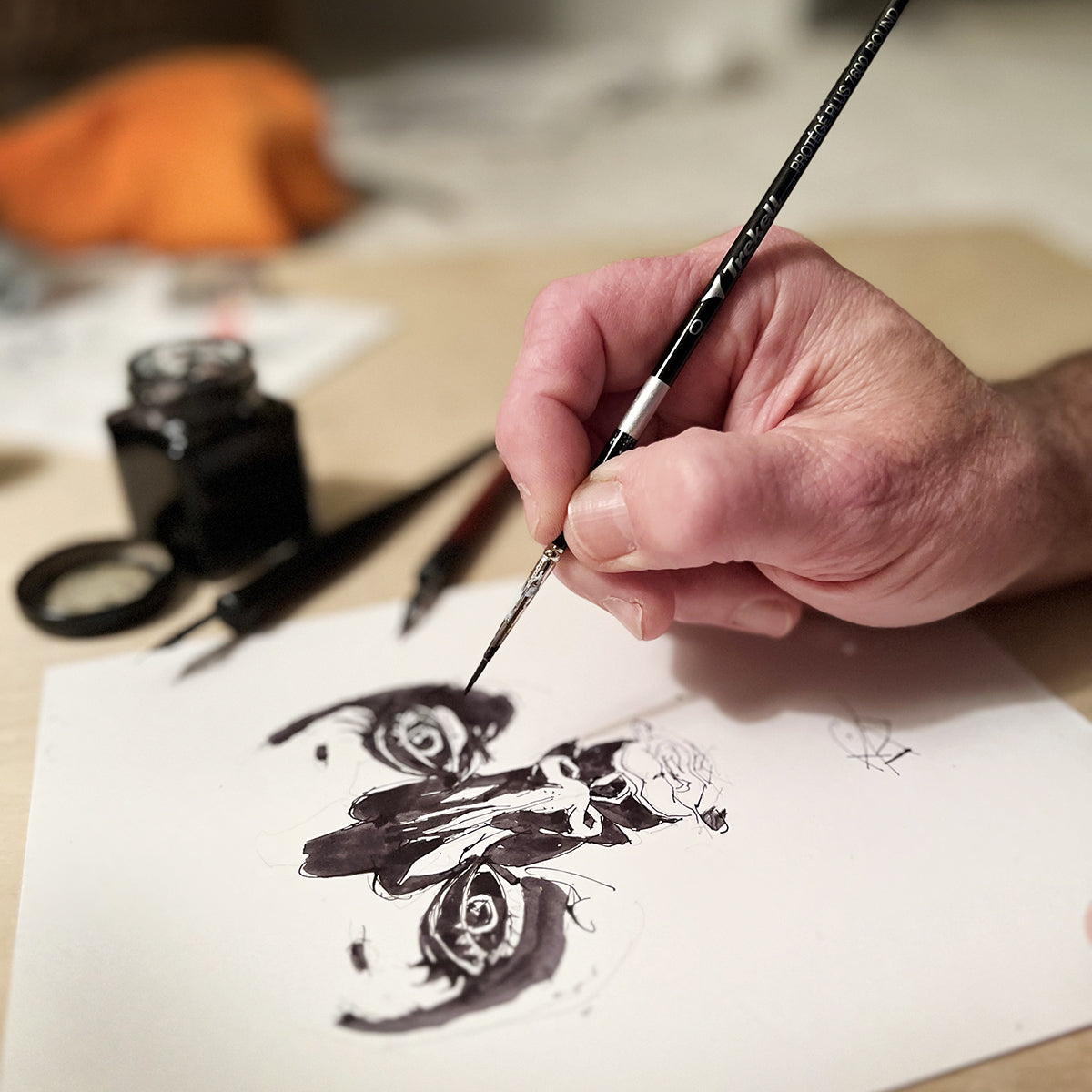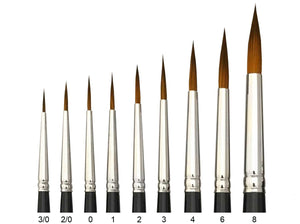 Protégé Plus Round - 7600 Series
The Protégé Plus line is made from a sustainable synthetic material designed to retain the positive characteristics of kolinsky sable-hair, a classic brush filament known for its retention and performance properties, without the common annoyances such as shedding and bending. This brush is on a short handle.
| Size | Width | Length | Price | | Quantity |
| --- | --- | --- | --- | --- | --- |
| 3/0 | 1/16 | 11/32 | $13.04 | | |
| 2/0 | 1/16 | 3/8 | $13.64 | | |
| 0 | 1/16 | 1/2 | $16.17 | | |
| 1 | 3/32 | 9/16 | $19.47 | | |
| 2 | 1/8 | 9/16 | $24.86 | | |
| 3 | 1/8 | 5/8 | $28.16 | | |
| 4 | 5/32 | 11/16 | $29.21 | | |
| 6 | 3/16 | 13/16 | $31.35 | | |
| 8 | 1/4 | 1 | $35.37 | | |
| 3/0-8 | Complete | Brush Set | $190.14 | | |
Trekell Protégé Plus Synthetic Kolinsky Artist Brushes - Short Handle for Watercolor, Oil, Acrylic Painting
Protégé Plus Round - 7600 Series
Trekell Protégé Plus Synthetic Kolinsky Artist Brushes - Short Handle for Watercolor, Oil, Acrylic Painting
Protégé Plus Round - 7600 Series
Trekell Protégé Plus Synthetic Kolinsky Artist Brushes - Short Handle for Watercolor, Oil, Acrylic Painting
Protégé Plus Round - 7600 Series
Trekell Protégé Plus Synthetic Kolinsky Artist Brushes - Short Handle for Watercolor, Oil, Acrylic Painting
Protégé Plus Round - 7600 Series
Trekell Protégé Plus Synthetic Kolinsky Artist Brushes - Short Handle for Watercolor, Oil, Acrylic Painting
Protégé Plus Round - 7600 Series
Trekell Protégé Plus Synthetic Kolinsky Artist Brushes - Short Handle for Watercolor, Oil, Acrylic Painting
Protégé Plus Round - 7600 Series
Trekell Protégé Plus Synthetic Kolinsky Artist Brushes - Short Handle for Watercolor, Oil, Acrylic Painting
Protégé Plus Round - 7600 Series
Trekell Protégé Plus Synthetic Kolinsky Artist Brushes - Short Handle for Watercolor, Oil, Acrylic Painting
Protégé Plus Round - 7600 Series
Trekell Protégé Plus Synthetic Kolinsky Artist Brushes - Short Handle for Watercolor, Oil, Acrylic Painting
Protégé Plus Round - 7600 Series
Trekell Protégé Plus Synthetic Kolinsky Artist Brushes - Short Handle for Watercolor, Oil, Acrylic Painting
Protégé Plus Round - 7600 Series