DESCRIPTION
Your brush cleaner shouldn't give you a headache. Our Coconut Oil Soap is gentle on the senses and your water-based media brushes, but it sure washes away leftover water-based paint. Keep your Trekell brushes looking like they just came off the factory floor -- and keep money in your pocket -- with this long-lasting four ounce container.
READ MORE
Customer Reviews
Write a Review
Ask a Question
01/28/2020
Cynthia S.
United States
Best Brush Soap Ever
I absolutely love this soap. I use it to clean my brushes and to protect my brushes when using masking fluid. And, I love that it is made from coconut…you can really tell the difference.
12/26/2019
Meriza G.
United States
Enjoyable wash with this cleaner and makes the bristles soft!
I have never seen a brush washer before made with coconut oil and when I first heard of it, I thought it was a GENIUS idea! I tried the sample and I immediately fell in love with it! I bought the 4 oz immediately and I loved how the coconut soap made the brush bristles so soft and smooth! It even loosened the other brushes that I had that were stiff and had leftover paint in them. Another benefit is that the washer sample lasted me months so this 4 oz container will last you a very long time and when I buy something I expect it to last awhile and that is exactly what I am getting here! Lovely washer and I highly recommend it!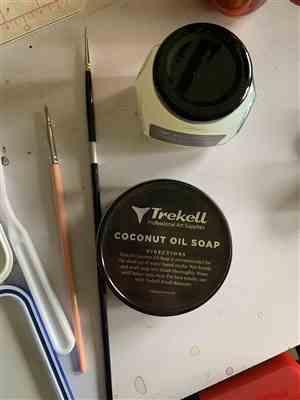 12/19/2019
Linda G.
United States
Great Soap for Brushes
I really like this coconut oils soap. It washes acrylic paint out of my brushes and leaves them in great shape.
Brush soap
This is excellent! My brushes are cleaned, silky smooth & holding their shape.
This soap!
Over the last few years I've been using this soap to clean the brushes I use for my acrylic paintings. It works so well I will keep on buying it. After I'm done using it my bushes are as good as new and dry out clean and fresh. I don't live far from other art stores but I prefer to order this soap every time. Thank you Trekell, I recommend it highly.
Best brush soap
I've tried many brush cleaners in my 14 years of painting and this by far is the easiest and nicest to use, I thought I was cleaning my brushes before , but the first time I used this I used it on a brush I had recently cleaned and it pulled out so much more color and paint from my brush I couldn't believe it, this helps make my brushes last so much longer and they already last extremely long because of course the only brushes I use are trekell brushes