DESCRIPTION
Try out some of our Trekell Brush Care Products before buying a full size. Samples available are:

0.5oz - Coconut Oil Soap - for water based media (black container)
0.5oz - Linseed Oil Soap - for oil paint (silver container)
0.25oz - Brush Restorer
READ MORE
Coconut Oil Soap - 1/2 oz
Linseed Oil Soap - 1/2 oz
Coconut Oil Soap + Restorer Sample Sizes - For Acrylic & Watercolor
Linseed Oil Soap + Restorer Sample Sizes - For Oil
| | | | |
| --- | --- | --- | --- |
| Type | MSRP | Price | Quantity |
| Coconut Oil Soap - 1/2 oz | $5.99 | $3.49 | |
| Linseed Oil Soap - 1/2 oz | $5.99 | $3.49 | |
| Brush Restorer - 1/4 oz | $5.99 | $3.49 | |
| Coconut Oil Soap + Restorer Sample Sizes - For Acrylic & Watercolor | $5.99 | $6.49 | |
| Linseed Oil Soap + Restorer Sample Sizes - For Oil | $5.99 | $6.49 | |
Customer Reviews
Write a Review
Ask a Question
10/18/2020
Robin M.
United States
perfect size for painting outdoors.
These sample sizes of coconut oil soap and brush restorer are perfect for keeping brushes in new condition even if you forget when you come back from a painting outing. I love the fact that they fit almost anywhere and I can refill them with the same product when they run out.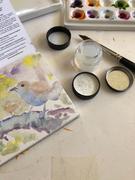 10/13/2020
Aaron D.
United States
Great care products
Great samples, can't wait to get the full size
10/09/2020
Deana L.
United States
Great brush cleaner
My favorite brush cleaner now!
09/12/2020
Autumn S.
United States
Great to have in my kit bought one for a friend
I picked up a sample set to take with me to and from the classes I took, as I found one of the colors I used was just impossible to get out of the brush at the end of the night with out soap, but I wanted something I knew wouldn't be to rough on it. I was hooked long lasting this tiny little tin lasted the full eight weeks of cleaning off my brush and a quick restore at the end of each week so they were ready to go at the start off the following. Two weeks in I bought full sizes of both products and picked up another set of the sample to give to a friend for his intro class.
09/02/2020
Dora T.
United States
Brush cleaner
Great product for brush care!
07/03/2020
Caroline K.
United States
I didn't get these in the box!
I don't revive these! I would love to try them!